One of my favorite television shows is coming back for it's seventh season, and it doesn't even air in the states. Thank God for the internet, because how on earth did I live before Los Hombres De Paco?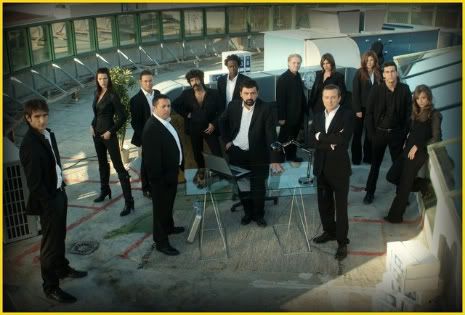 image thanks to the Pepa & Silvia message board.
The show, which airs in Spain, translates literally into 'Paco's Men', and it revolves around Paco, a bumbling inspector, his family (most of whom are cops as well) and his band of merry men. The show is dark, hilarious, tragic, dramatic and incredibly well written, and I've been in love from the moment I came across a compliation video. Even if it can get confusing as hell sometimes. The family dynamics of this show are MIND BOGGLING. The main love story has to do with a man in his thirties who was raised like a son to Paco, and his forbidden love with Paco's 18 year old daughter. This romance started when she was 15. And Lucas, the older man, has also been married to Sara, the daughter's aunt, Silvia. The crazy thing is that the chemistry of Sara & Lucas actually works - despite the insane age difference, and the fact that Lucas is like a son to Sara's dad and the fact that Lucas is Sara's ex-uncle. But that's how the show is. It makes the implausible seem destined.
One of my favorite storylines has been the development of the romance of Pepa, Paco's rascal of a sister, & Silvia, Paco's sweet sister-in-law, who grew up together, shared an illicit smooch when they were eighteen and then were torn apart to reunite 8 years later when Pepa transferred to the San Antonio station to be closer to her brother. What follows is a terrifically told story of confusion, lost love, first passion, and overcoming doubts.
In the midst of the heavy stories is the silliness, and what's amazing about this show is that the cast can play both sides of the fence so easily. This season, the cast has had its change ups. Lucas, played by leading man Hugo Silvia, is leaving the show, and also leaving is Lola, played by Adriana Torres, who served as the show's matriarch. The result is a sort of reboot of the series, which lays to waste the OTP's that the show has relied on so faithfully (the forbidden love of Lucas/Sara, the adorable romance of Povedilla/Rita, the mainstay couple of Lola/Paco), and leaves intact only one: Pepa and Silvia. All bets are off - and it should be interesting to see where this show goes.
This show isn't shown subtitled - but fans of the Pepa/Silvia couple can read watch youtube videos with subtitles here, and read detailed recaps and a character guide here.